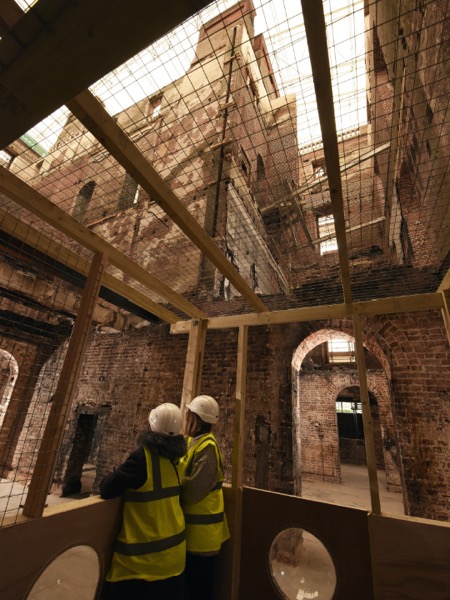 The basement at the National Trust's Clandon Park in Surrey is open for the first time since the 2015 fire, giving visitors a chance to delve deeper in to the house.
From today, a new walkway in to the basement takes visitors on an atmospheric journey to where the fire started, revealing its full impact on the house, as well as leading them through a new exhibition.
Following the basement corridor towards the south end of the house, the new walkway takes visitors deep in to the lowest, and most fire-damaged spaces within the 18th-century Palladian mansion.
The less damaged north end of the basement will also be on show, as visitors are led to the beautiful undercroft - a vaulted room under the Marble Hall - which pre-fire visitors will remember as the restaurant. This now includes a display, charting the design challenges, and key questions, that the National Trust is considering during the hugely complex project.
Visitors are invited to share their thoughts as the National Trust works with its architects, specialist advisers and stakeholders to develop plans for Clandon's future.
From the undercroft visitors can pass into a protected viewing area which gives them sight of the full extent of the fire damage for the first time, with dramatic, vertical views from basement floor to scaffolding roof.
Sophie Chessum, Senior Project Curator at Clandon Park says:
"Sharing our progress since the fire has always been really important to us. Previous visitors to Clandon Park have been able to visit the Saloon, State Bedroom and Marble Hall, which are amongst the most significant rooms in the house and therefore areas we felt visitors should see straightaway.

"By opening up the basement, we are creating a new space for discussion about Clandon's future in an area of the house where the extent of the damage to Clandon is at its starkest.

"This is a unique opportunity for visitors to see the extraordinary bare bones of this grand Palladian mansion, in its post-fire state, before access may become more limited further down the line when building work is underway."

The new basement walkway adds to the existing access at Clandon Park, which includes the Saloon, State Bedroom, Marble Hall and the garden.
Clandon Park is open until 28 October 2018 (including the first May bank holiday weekend, 5-7 May).
For more information please visit
www.nationaltrust.org.uk