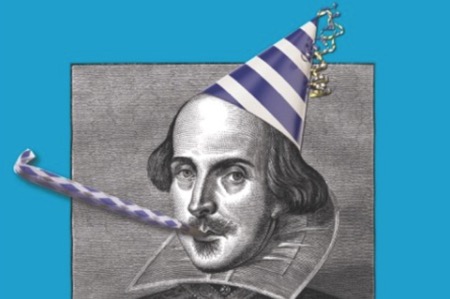 SHAKESPEARE'S BIRTHDAY BASH RETURNS FOR 7th YEAR!
Now in its 7th year, WILL'S BIRTHDAY BASH is Guildford Shakespeare Company's annual celebration of William Shakespeare birthday, 23 April 1564.
Will's Birthday Bash has always been a sell-out event, and once again the award-winning theatre company have lined an exciting programme to mark the occasion, kicking off with their 7th SONNET WALK WEEKEND (21-22 April). Akin to a treasure hunt, the Sonnet Walks take audiences on a mystery walking-tour where walkers will encounter Shakespeare and his characters in the least likely of places. In previous year years, the especially designed route has included the roof of House of Fraser, a fortune teller in Rack's Close, a prisoner in the Castle Keep, and last year St Catherine's Ruin and a field of sheep!
This year, GSC are very excited to announce a brand new venue for the walks – the historic West Horsley Place. The Grade I listed manor house and surrounding estate were inherited by Bamber Gascoigne, who has set up a charity, The Mary Roxburghe Trust, to rescue and restore West Horsley Place and to establish there a vibrant centre for the performing and visual arts and for the teaching of crafts. The incredible house and grounds will be taken over by actors for the weekend, allowing audiences to discover not only fabulous speeches and sonnets from Shakespeare, but also this magnificent home once visited by Elizabeth I.
The Bash continues with a special staged reading of Shakespeare's THE TWO NOBLE KINSMEN, on Wednesday 25 April. Based loosely on Chaucer's Knight's Tale, this collaboration with John Fletcher is pure Jacobean drama with dark sibling rivalry, unrequited love and deception…it also includes a group of amateur actors (harking back to the successes of Dream?) and... wait for it... a baboon! Following the sell-out staged readings of Pericles, Cymbeline and Henry VIII, join us for another of Shakespeare's rarely performed plays.
The final event in the Bash is GSC's flagship youth theatre, the GSC YOUNG COMPANY, second public performance (29-30 April). Devised, written and performed by their group of 12 – 16 year old aspiring actors, the performance is based on the three Shakespeare plays GSC staged last year, Julius Caesar, A Midsummer Night's Dream and The two Gentlemen of Verona. The play cleverly intertwines story lines from all three plays, and includes new characters inspired by the originals. "That was the most inspiring evening" Audience member 2017
Tickets for Will's Birthday Bash go on sale 19 March (Priority Booking opens 12 March).
www.guildford-shakespeare-company.co.uk
Tickets £10 - £16.