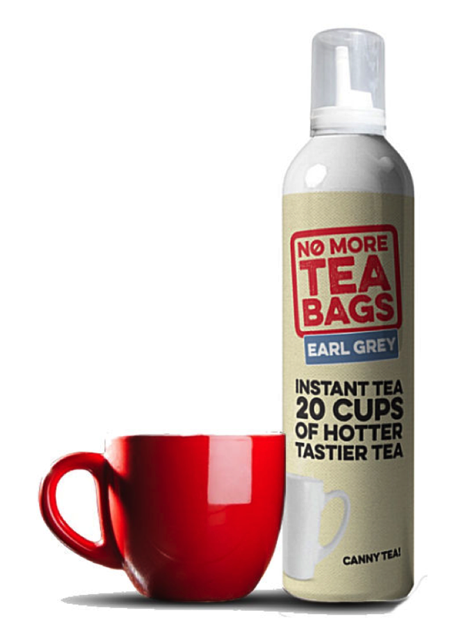 The standard tea bag has been around since1904 and hasn't changed much since it began appearing in kitchens across the globe.
Despite its resistance to change the tea bags has its issues! For one you have to wait for your drink to brew (or mash depending on which part of the country you're from). Then there's the consistency problem, with it being almost impossible to make a cup of tea taste the same as the last – change the size of your mug, brewing time or strength required and it's easy to find yourself experiencing a very different tasting drink to the one you had before. Finally you're left with a small damp bag you need to dispose of.
After a wait of over 110 years this could all be a thing of the past however, because a teavolution is underway…
No More Tea Bags is based on a new patent pending technology which allows for high quality liquid teas to be contained in an aerosol style recyclable can. This means tea can be dispensed into a mug, hot water and milk added and the perfect cup of tea created without the need for waiting for brewing or having to mess about with and dispose of tea bags.
The most excited aspect of the invention isn't the convenience the can brings however but the taste benefits, as the product's inventor, Guy Woodall, explains…
"The convenience of not having to sit around and wait for your tea to brew is a major selling point, but the technology we've used enables us to produce a tea with what we believe is a far superior taste to an ordinary tea bag. According to research the average tea bag is brewed for just 13 seconds, which isn't anywhere near long enough to appreciate the flavour of real tea. The tea we use in No More Tea Bags is brewed for a full five minutes such that a fuller flavour is achieved. All you have to do to get the strength or size of tea you want is add more or less NMTB as required. Whether you want a strong but small mug of tea or a weaker large mug, NMTB caters for your exact needs, producing the perfect cuppa each and every time."
It's not just the traditional tea market that No More Tea Bags will appeal to. Alongside Original and Earl Grey varieties, there is also a Jasmine Green Tea in the range. The drink captures the taste of high quality jasmine green tea in this convenient and easy format and, as with the Earl Grey version, is created using leaf tea, rather than fannings.
For further information visit
www.nomoreteabags.com