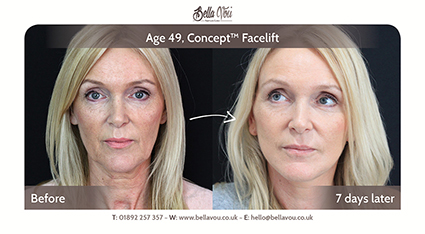 The Bella Vou cosmetic surgery clinic in Tunbridge Wells is looking for a female candidate to take part in a TV documentary for Channel 5. The successful candidate will undergo Bella Vou's revolutionary ConceptTM Facelift for FREE, including all consultations, surgery and aftercare. The complimentary procedure is normally worth £8,500.
Bella Vou is looking for suitable candidates aged in their 50s or early 60s, who are looking to rejuvenate their face and neck with a complimentary facelift procedure.
To take part, candidates will need to consent to being fully filmed throughout their surgical journey. The filming will include a pre-surgery interview in a social setting (possibly with friends or family), the procedure itself, and a post-surgery follow-up interview.
Successful candidates should be confident and outgoing, preferably with an interesting background story and a strong character that comes across quickly. The episode will be filmed over the course of three days in April 2017, and Channel 5's 'Body Works' programme is due to be aired at the end of June.
The pioneering ConceptTM Facelift is the brainchild of consultant plastic surgeon, Mr Amir Nakhdjevani and recently featured on BBC One's programme 'Facelifts and Fillers'. Performed completely under local anaesthetic, the unique procedure has revolutionised facial surgery using minimally invasive techniques that result in full recovery within just one week.
Amir Nakhdjevani, lead cosmetic surgeon at Bella Vou, said: "The ConceptTM Facelift enables patients to be discharged on the same day as their surgery, without the need for lengthy hospital stays. The transformative procedure minimises bruising and swelling when compared to more invasive traditional facelift techniques and avoids the risks associated with a general anaesthetic procedure. By addressing the underlying muscle layer of the face, the ConceptTM Facelift gives results that last up to 10 years."
To register your interest, simply send a close-up picture of your face and neck taken within the last six months and a short video of explaining your background and why you should be chosen for the free procedure to
hello@bellavou.co.uk
.