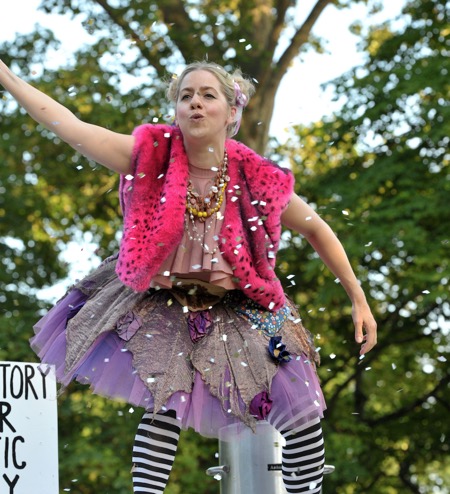 14 – 30 June Surrey's award-winning Guildford Shakespeare Company (GSC) open their 13th Annual Open-Air Season with a brand-new adaptation of England's greatest legend.
Daring rescues, archery competitions, and sword fights, together with the cries of dastardly Sheriffs and May Day folk songs will fill the air this summer as the first part of GSC's open-air theatre double-bill bursts into life.
Next month England's most enduring legend ROBIN HOOD takes centre stage in a brand-new story written by GSC's Associate Playwright ANT STONES (Grimms' Fairy Tales, The Wind in the Willows). Whilst featuring all the classic characters – Little John, Lady Marian, Friar Tuck and the Sheriff of Nottingham – this new play takes its inspiration from the original folk tales, including the shadowy figure of The Prioress.
A number of actors will be making their GSC debut with ROBIN HOOD, including GAVIN FOWLER (Penny Dreadful Season 1, Puck in Michael Grandage's A Midsummer Night's Dream, Florizel in Lucy Bailey's RSC The Winter's Tale); SALLY CHENG (Twelfth Night, A Christmas Carol, RSC); and JAMES SHELDON (Jean in Miss Julie at Jermyn Street Theatre). GSC regular CHRIS PORTER returns to the company following recently touring with David Haig's five-star play Pressure. He is joined by PAULA JAMES and ROBERT MASKELL who respectively last played Portia in GSC's Julius Caesar (2017) and the Porter in Macbeth (2013). The cast is completed by GSC's Co-Founder and Actor-Manager SARAH GOBRAN.
Director TOM LITTLER also makes his return to GSC, his first since becoming Artistic Director of London's Jermyn Street Theatre. TOM JACK MERIVALE joins the creative team to write the show's original songs and PHILIP d'ORLÉANS is once again in charge of the fights. Designer NIEL IRISH (Opera Holland Park, Watermill Theatre, English Touring Opera) also returns.
ROBIN HOOD is staged in Guildford's best-kept secret, RACKS CLOSE. A former chalk quarry, now beautifully overgrown into an idyllic natural amphitheatre, RACKS CLOSE sits in the heart of the town centre. ROBIN HOOD follows last year's runaway success of A Midsummer Night's Dream in the same venue. Rope bridges and tree houses, together with the venue's winding paths and grass banks promise an unforgettable immersive experience. GSC will also be holding collections for the Guildford North Food Bank at every performance, which seeks to provide temporary help for those in the Guildford area who are in need.
See the GSC website for further details of what items are being collected >>>
www.guildford-shakespeare-company.co.uk