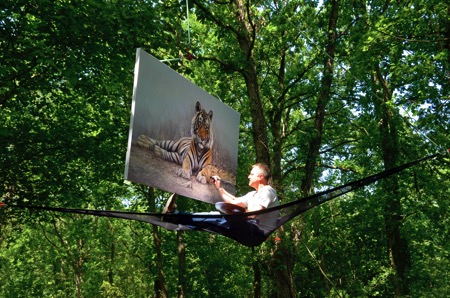 Wildlife artist Richard Symonds has teamed up with TigerTime for a unique fundraiser to help save tigers in the wild
A life-long fan of wildlife artist and founder of DSWF and TigerTime, David Shepherd CBE, Richard has embarked on an exciting partnership that has created an amazing one-off work of art set to be unveiled at London's Mall Galleries on June 29 (opens to the public June 30) as part of the DSWF Wildlife Artist of the Year exhibition that runs until Saturday July 4.
The magnificent life-size oil portrait of a Bengal tiger entitled 'Prince of India' will, however, be making a special guest appearance at the DSWF Gallery in Shalford, Surrey from Monday June 22 – Friday June 26 before it heads up to London.
"This is a great opportunity for people to come and see this truly majestic oil painting before it leaves for London," says TigerTime campaign manager, Vicky Flynn. "With as few as 3,000 tigers left in the wild this will be a rare opportunity for people to see a life-size tiger and to have their photo taken with it."
While selfies with captive tigers have been condemned by conservationists, the TigerTime team are encouraging people to take selfies with the 'Prince of India' to help spread awareness of the plight of the tiger in the wild by using the TigerTime and ban tiger trade hashtags when posting their photos on social media (#TigerTime #bantigertrade).
"Motivating people to act and to spread awareness is what TigerTime is all about," adds Vicky Flynn. "We fund raise to support vital conservation, education, community outreach and undercover work across tiger range countries and have mobilized a huge following through social media with hundreds of people signing up to our campaign to ban the trade in tiger parts. With art very much at the heart of our charity, Richard's idea fits perfectly into what we do."
Talking about 'Prince of India' Richard Symonds said: "There is something so incredibly beautiful about the tiger that the thought of them being threatened with extinction in the wild is a real incentive to do something to reverse the decline. I've followed David Shepherd's work, both as an artist and a conservationist and have been inspired to do what I can to help.
"'Prince of India' has been a real pleasure to paint and has taken in excess of 300 hours to complete. The whole painting process has been inside my studio but with the beautiful weather outside and my love of the great outdoors, I wanted to complete the last few brush strokes in a forest environment. A fitting end to the painting being completed in the wild – just as the tiger should be."
As original and rare as a wild tiger, the painting will carry a price tag of £30,000 with proceeds supporting tiger conservation in India, Russia and Thailand. Prints of the 'Prince of the India' will also be available from June 22 at the David Shepherd Wildlife Foundation Gallery, 7 Kings Road, Shalford and online at
www.richardsymonds.co.uk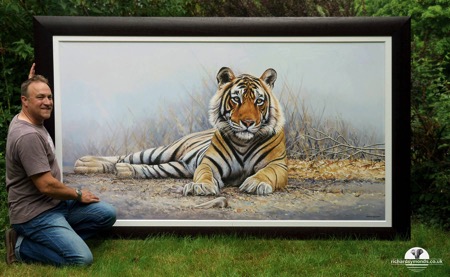 The painting is based on a photograph taken by fellow TigerTime supporter, Michael Vickers (
www.tigersintheforest.com
) of the Chiroli Male - or T2 - a huge dominant male who ruled an extensive territory in Ranthambore. T2 died of natural causes two years ago but leaves a fabulous legacy including the current star male known as 'Romeo'.
If you are interested in buying Prince of India: please contact Vicky on +44 (0)1483 443851.
You can find out more about TigerTime at
www.tigertime.info
and join the growing global following on twitter
@TigerTimeNow
and find us on Facebook at
TigerTimeNow
.