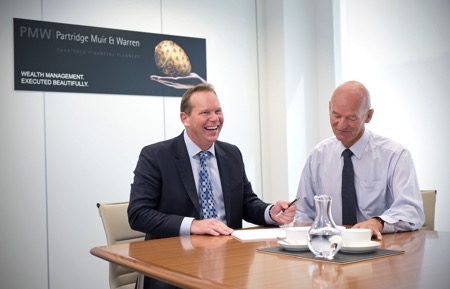 Partridge Muir & Warren is the first local business to support Elmbridge Community Fund
Partridge Muir and Warren (PMW), the Esher based Chartered Financial Planner and Wealth Manager, has become the Founding Corporate Partner of Elmbridge Community Fund (ECF).


PMW has provided an initial donation to ECF along with a commitment to make further donations each year. These donations will be calculated with reference to the annual profit achieved by the PMW Academy Portfolio; an investment fund created to assist in the training and development of PMW staff. The investment fund was established with Company money to enable trainee staff to act as fund managers and learn from both their successes and failures before taking responsibility for clients' portfolios.
Elmbridge is one of Surrey's most affluent boroughs and often features as one of the best places to live in the UK. Nevertheless, there are pockets of disadvantage in the borough and the Elmbridge Community Fund, part of the Community Foundation for Surrey, was created to target and help those groups and communities that are often overlooked.
Simon Lewis, CEO of PMW said: "The nature of our business means that inevitably, we serve the needs of the more affluent residents of Elmbridge. We wanted to find a way to enable our success to benefit a wider audience and we believe that we have found the ideal way to achieve this through participation in the Elmbridge Community Fund."
Richard Waller, Chairman of ECF said: "We are delighted that PMW has chosen to support our objectives to improve the quality of local community life and we look forward to their enthusiastic participation in furthering the aims of the Elmbridge Community Fund. We would encourage others to support the Fund so more local communities and people in need can benefit."
For more information about Partridge Muir and Warren and its services, please visit www.pmw.co.uk. If you would like to donate to the Elmbridge Community Fund or to find out more, please visit
www.cfsurrey.org.uk/elmbridge