10/02/16 15:15 Filed in:
What's On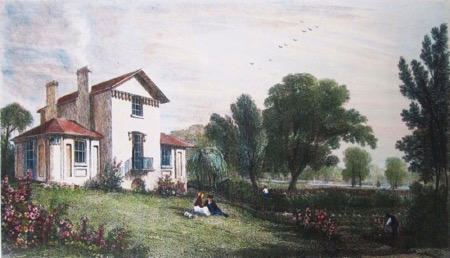 To help save JMW Turner's Twickenham villa
8 February 2016 – Today Turner's House Trust announces a four-week crowdfunding campaign to bridge the funding gap required to fully restore Sandycombe Lodge, the Twickenham villa designed and built by JMW Turner.


Thanks to the Heritage Lottery Fund, Architectural Heritage Fund and many other generous funders and private supporters, the Trust is now only £125,000 away from its fundraising target of £2.4 million.
A loan offer from the Architectural Heritage Fund has enabled the Trust to appoint contractors and urgent restoration works will begin in early April, with the house scheduled to reopen to the public in 2017.
"Until all the money is raised our work is not done," said Catherine Parry-Wingfield, chairman, Turner's House Trust. "We do not want to take up a loan we have no funds to repay. Meeting the funding gap is now urgent."
Turner's House from Jonathan Crane on Vimeo.
"Sandycombe Lodge is a rare three-dimensional work of art by Turner, England's internationally renowned landscape painter. We must save it for future generations."
It is now 200 years since Turner built the house, listed Grade II*, which is still almost totally intact with some unsightly additions. Now it is threatened by damp and decay, is on Historic England's Heritage at Risk Register and in need of urgent major conservation.
Crowdfunding rewards include private tours with personal guests and the opportunity to view the restoration ahead of public opening. To donate and for more details visit
www.crowdfunder.co.uk/turnershouse
follow
@TurnersHouse
www.facebook.com/turnerintwickenham
16/11/15 20:21 Filed in:
What's On

Sunday 29 November 11am to 4pm
Join Turner's House Trustees for a glass of wine while picking up delightful and original Christmas gifts for friends and family – all to support the Trust's restoration appeal.
The first Turner's House Christmas Fair was hugely popular and there have been many early requests for another. This year you will find an even wider choice of gifts not to be found on the High Street. Annie Simpson is back with her beautiful scarves made in fine merino and lustrous silk fibres, all inspired by specific Turner paintings – a perfect gift for Turner lovers.
Clementine and Coco return with their cheery handmade little bags, accessories, bunting and quilts – perfect stocking fillers and pretty gifts for the home. Derek and Susie Hale will again be offering their wonderful homemade preserves and chutneys.
Other stalls include jewellery and delicious Italian deli products, and new additions include a ceramicist, potter and silversmith. And be sure to not leave without an indulgent cake to take home for tea.
Plus, if you missed Turner's House open days this year, the Christmas Fair is one more – and final - chance to see Turner's Twickenham villa prior to restoration.
For more details please visit >>>
LINK