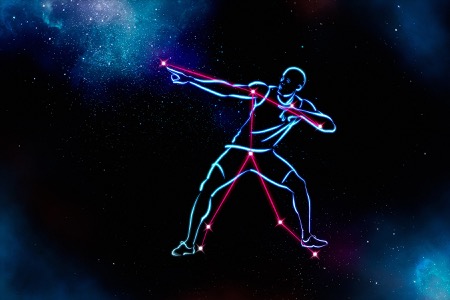 New constellations based on modern day inspirational figures created in a bid to get more children across the UK looking up to the stars and interested in the universe
· In a campaign to get more young people interested in the universe, The Big Bang Fair has partnered with astronomers at University of Birmingham to create 'Look Up To The Stars': a new set of constellations representing icons from sport, entertainment, science and activism that children are inspired by today
· There are new star constellations based on JK Rowling, Usain Bolt, Malala Yousafzai, Sir David Attenborough and Mo Farah – among others
· The constellations were created after research revealed how classical creations based on the zodiac and ancient mythological figures are not inspiring today's children to look up to the night sky
· Indeed, 72% of children have never looked up at the night sky to find a star constellation, and 29% wouldn't be able to recognise a single classical constellation when shown them
Many of the 88 existing constellations officially recognised by the International Astronomical Union are based on the zodiac and figures from ancient Greek and Roman mythology, but a new study has found these aren't necessarily proving successful in enticing children today to look up to the stars - with 29% admitting they wouldn't actually be able to recognise a single classical constellation.
In a bid to get kids to take up more of an active interest in the cosmos, The Big Bang Fair has worked with University of Birmingham to create a brand-new set of constellations based on inspirational figures of the modern day that young people will want to look up to - in every sense of the term.
The new project, entitled 'Look Up To Stars', centres on eight new constellations for the modern day – each one representing famous men and women that are inspiring to children from the worlds of sport, entertainment, science and activism – with a view to encouraging more young people to take up an interest in the universe.
In a study commissioned by The Big Bang Fair to mark the launch of the project, 72% of the 7-19 year-olds that were polled said they have never looked up at the night sky to find a constellation, while 29% admitted they wouldn't be able to recognise a single classical constellation by name if shown them.
So what are some of the new constellations that astronomy experts at University at Birmingham have created?
New creations from researchers include Harry Potter's glasses to represent JK Rowling, a tennis racket for Serena Williams, a space-craft for Tim Peake, a blue whale for Sir David Attenborough and a book in honour of Malala Yousafzai.
Sir Mo Farah meanwhile has been immortalised in the form of an 'M' shape constellation after his renowned 'Mobot' celebration, with Usain Bolt is also celebrated through a pattern of stars that resembles his own celebratory lightning-bolt stance.
The new constellations are the work of experts at the University of Birmingham's Astronomy Society. The process of developing the new constellations involved a careful analysis of star maps for different regions of the sky by researchers.
Emma Willett, who led the University of Birmingham research team, commented: "It was an honour to work alongside The Big Bang Fair to develop a new set of constellations for the modern day to encourage children today to look up to the stars. We really hope these new creations will help people of all ages develop their interest in space and astronomy, working to inspire the next generation of astronomers to take an interest in the field."
Beth Elgood, Director of Communications at EngineeringUK, who organise The Big Bang Fair, said: "Stargazing is a great way to spark young people's interest in the universe and inspire them to find out more. Inspiration is at the heart of The Big Bang Fair, where young visitors, their teachers and parents have the chance to get hands-on with engaging STEM activities, workshops and shows and discover where science and maths could take them in the future."
About The Big Bang UK Young Scientists & Engineers Fair

The Big Bang UK Young Scientists & Engineers Fair is the largest celebration of science, technology, engineering and maths (STEM) for young people in the UK. Taking place from 14-17 March 2018 at The NEC in Birmingham, The Big Bang Fair is an award-winning combination of exciting theatre shows, interactive workshops and exhibits and careers information from STEM professionals. Having grown from 6,500 visitors in its first year (2009) to over 70,000 in 2017, The Big Bang Fair is made possible through the collaborative efforts of over 200 organisations.
www.thebigbangfair.co.uk
School groups are invited to visit the first three days of The Big Bang Fair, which will also be open to the public on Saturday. Young people will leave enlightened about how science and engineering feature in everything they wear, eat and do. A number of apprentice, graduate and experienced engineers and scientists will be on hand to quiz, providing young people with the opportunity to discover how science and maths can lead to a great career. The Big Bang Fair also hosts the finals of the prestigious Big Bang Competition.