Duos come and duos go...
11/01/19 16:39 Filed in:
Music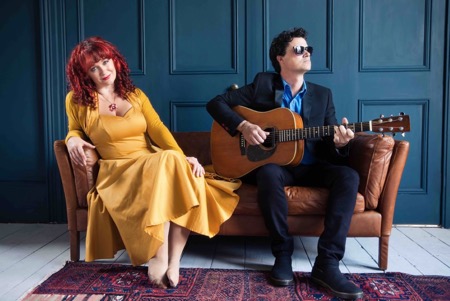 And some nurture and fine tune their art and watch it grow into something totally original, captivating and award-winning.
Bonded by an unseen alchemy, Kathryn Roberts and Sean Lakeman have entwined their professional and personal relationship into an enviable class act of imaginative songwriting and musicianship.
The Dartmoor-based husband and wife have twice won the coveted Best Duo title at the BBC Radio 2 Folk Awards (2016 and 2013), consistently delivering assured, distinctive performances whether live or recorded. Over two decades of performance they have never been trapped in a groove – always bold and innovative, mixing traditional song arrangements with (increasingly) their self-penned material which reels from the bitter to the sweet, the wry to the sad, the political to the passive. across folk, rock, country and blues genres.
Last year Kathryn Roberts & Sean Lakeman presented 'Personae', their landmark fifth studio album. It is an eclectic emotional see-saw of a journey, melding ten tracks of traditional ballads and their own self-penned versatile material. Once again Roberts & Lakeman have created an album by turns curious, thought-provoking, moving and magical – a complete cornucopia astutely delivered by one of the most intriguing, uninhibited and popular duos on the British folk scene. Most definitely not 'personae non gratae'.
They are playing: Saturday 30 March, Riverhouse Barn Arts Centre, Manor Rd. Walton ON Thames, KT12 2PF.

Book on-line here >>>
thelittleboxoffice.com
and visit
www.kathrynrobertsandseanlakeman.com
for more information about the duo.