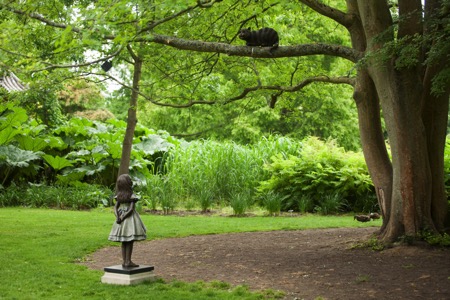 Summer Adventures in Wonderland at RHS Garden Wisley 22 July – 31 August 2015.

Don't be late for a jam-packed summer of Adventures in Wonderland at Royal Horticultural Society (RHS) Garden Wisley, Surrey. Join the celebration of the 150th anniversary of Alice's Adventures in Wonderland with free family activities every day.
In the same year that plantsman and former President of the RHS Edward Augustus Bowles was born, Lewis Carroll created the nonsensical and magical world of Wonderland. EA Bowles, too, harboured a passion for the weird and wonderful, and famously had an area in his garden devoted to his botanical curiosities. Bowles' Corner at RHS Garden Wisley pays homage to this great plantsman with a selection of 'interesting' woodland plants.
This summer, discover a world of wonder at Wisley inspired by the logic-twisting tale of Lewis Carroll, sponsored by Witan Investment Trust. Enjoy horticultural highlights come rain or shine, outstanding mixed borders, fragrant rose gardens and sensational panoramas creating a feast for the senses. You'll be welcomed to Wonderland with an Alice's Adventures in Wonderland Top Terrace bedding scheme. Admire the wacky and wonderful design. Clashing colours and the White Rabbit lead you from reality to Wonderland, where you'll find a 3-D sculpture of a caterpillar relaxing on a mushroom. This design was created by Wisley second-year horticulture Diploma students.
Explore, cook, play and plant your way to the perfect summer with gardening-inspired activities for all ages. Free activities include gardening, arts and crafts, music, theatre and puppet shows. Have an 'un-birthday' with a session of Eat Me, Drink Me cookery, or face painting on Tuesdays (payable and bookable in advance).
Follow the clues for curiouser and curiouser encounters throughout the garden with the Mad Hatter and the March Hare, the Caterpillar and the Cheshire Cat – and, of course, Alice herself. Discover the many bronze sculptures by the renowned Robert James Workshop around the garden. Take on the adventure, explore down the rabbit-hole willow tunnels, play flamingo croquet… you'll be grinning like a Cheshire Cat this summer at Wisley.
2015 is the Year of the Sunflower, and this summer you'll spot lots of them around the garden. From single blooms to multi-headed, toddler-sized to several metres tall, sunflowers are diverse. The giant flowers will be just like being in Wonderland. All over Europe many gardens as well as trials gardens will be celebrating the wide variation and uses of sunflowers. At RHS Garden Wisley you'll see dwarf sunflowers in containers, agricultural, border and cut sunflowers for an RHS Award of Garden Merit trial. Be sure to vote for your favourite in the RHS People's Choice during the summer months.
Eat the Queen of Hearts' jam tarts at the Mad Hatter's Tea Party Picnic

Join Alice and her friends for fun and entertainment at the Mad Hatter's Tea Party Picnic. Wear your most creative hat and gather your friends! Pick up a picnic including your jam tart. Seating is limited: pre-booking and pre-payment will be required. For more information visit
www.rhs.org.uk
. Normal garden admission applies.
Bring your family along for a full day of fun every day of the holidays. Activities each day, some bookable in advance, visit
www.rhs.org.uk
for what's on when.