17/04/19 14:03 Filed in:
What's On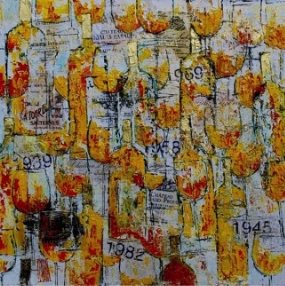 ArtWeek@TheClockHouse
The Clock House, Ripley's popular Michelin-starred restaurant, will be hosting its inaugural ArtWeek@TheClockHouse in June. Customers will be able to meet, and watch, internationally acclaimed French artist Eric Bourse at work. Bourse, whose award-winning contemporary art is already displayed and on sale in The Clock House, will be setting up his easel in a corner of the bar each lunchtime and engaging with customers, while producing more of his acrylic paintings inspired by the ever changing seasons and his passion for fine wine and food.
Taking place Wednesday to Saturday June 12 to 15, this partnership is the result of local Surrey art gallerist Kit Bentley collaborating with Serina Drake, owner of the restaurant. Kit, a resident of West Clandon and regular at The Clock House, has represented Bourse and his work both in the UK and further afield for some 20 years. Eric Bourse is an artist poet from Northern France, whose intense expressionist painting has been compared to that of Gustav Klimt and Egon Schiele. He has an international following and has exhibited across the globe, including galleries in Cork Street, London, New York, Paris, Rome and Dalian, China. The contrasting palettes of Eric's bold use of colour and generous layering of acrylic create artworks with vitality, motion and emotion.
"I've long been a fan, and indeed private collector, of Eric's work," says Serina Drake, "and our customers often comment on the examples on display in the restaurant. The 'Bordeaux Blancs' painting is in pride of place in the bar and much admired. So when Kit suggested that Eric spend a week with us, I jumped at the chance. Good food, wine and fine art…what a fabulous combination for our customers to enjoy!"